It's Friday and it is Family Frolics time!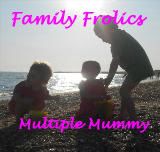 This week I shall start with my featured post as it the inspiration for my Family Frolic this week. This week I pick Rainy Day Mum, who took her children to the zoo last week. She had a fabulous time but apparently the zoo she went too was very cold.
We have not been to the zoo for ages (we did stop by to see Santa's Grotto at Christmas) but it has been so cold most of the animal hide away. This week I dropped BBto pre-school and decided to take the twins to the zoo on my own, and what's more, I braved it buggyless and just put on their lead back packs. This worked brilliantly, as the twins loved the freedom of being able to walk, and also stimulated their interest in animals as they could look in the windows freely and were not pinned down in the double buggy getting restless.
They must have walked a couple of miles whilst we were there and their morning was highlighted by a train ride at the end. Chilled out Boy is particularly into his Choo Choo's.
The sun was out and it actually felt like a summer's day, it was beautiful and I felt so relaxed wandering around with them and giving them the quality time. Usually a zoo trip can be very dominated by what BBwants to see and because he is such a routine little chap, we have to see things in the same order every time (yes he is an odd little chap).
We thoroughly enjoyed ourselves and plan to make it a regular trip now the weather is warming up.
So what have you been up to this week? Come and link up your Family Frolics below:
The basic rules
The most important part is that it has not got to look 'professional'…it is the taking part that counts.
It must be family based…meaning an activity you did together. It does not have to involve the whole family but at least evidence that a child and adult were involved together.
It must not be a competition of review that you have been requested do (if it is a book you are reading or a toy you are playing with for example then that is different.)
I would really appreciate you taking my badge to put on your post and if you fancy mentioning that you have linked up to me in your post that would be great! The code can be found in the side margin of my blog!