Welcome back to Family Frolics.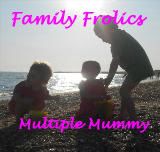 Most of you that have read my blog this week, will know that we went to see the Gruffalo Live and that we were very disappointed by it. If you are thinking of going I suggest you read my review first! Despite this you will also know that BBis a hard core Gruffalo fan and we frequently read the book!
It is that story time moment that I just love with Noah, when we do the voices of the characters and read it snuggled up on his bed.
I was stunned and proud to find that the little man knows the words off by heart which I feel is pretty impressive at three years old.
So just for you, here is the cutest Gruffalo video ever.

Now we have read the Gruffalo by Julia Donaldson so many times we have now moved onto the Grufflo's child which BBinsists on calling The Gruffalo and his baby!
Family Frolics time ladies and Gentleman, and last week superb entries as usual. My favourite last week has to be Coombe Mill, with their swimming in the river antics – brilliant. You have to see the video!
So come and link up and share your family fun this week. Can't wait to read.
For the rules and guidelines click here, but please ensure you have included my badge (found in the right hand side margin) somewhere in the post or linked to me. Thank you. x
Just to add – the mad blogs awards have opened and I would love you to consider a nomination for either Family Fun or Family life. Big hugs and smiles if you do. x