Welcome back to Family Frolics!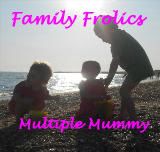 This week the whole family was invited to a garden party to raise money for the local theatre and a traditional Punch and Judy show was put on for entertainment for the children.
Although the weather was it's typical miserable self, it did stay dry and gave the kids the chance and sit and enjoy the performance. I was not sure what mine three would make of it all and whether the twins would have the staying power to watch it all, but they were engrossed.
BBand Little Madam particularly found it laugh out loud-able and adored Punch, the baby and the crocodile!
It is funny when you see so much said about violence in films, TV and computers games, that whacking someone over the head with a stick is OK, but actually it really was, and at the end, all the kids were shown that it was a special slap stick, and told that it is not kind to hit someone to cause pain.
I have actually never seen a Punch and Judy before and it was lovely to watch a bit of treasure heritage. It did give you that summer seaside feel even if the sun was missing!
The man who did the show, makes the puppets and is very skilled.
I found it amazing to discover that my Father in Law still had his Punch, Policeman and crocodile puppets from when he was a boy.
The stealing of the sausages was a winner every time, and when you scanned the garden, not an adult was short of a smile!
Now 'That's the way to do it!'
So what have you been up to this week!
Please come and share your posts and just add either a link back to me or my badge from the side bar.
Looking forward to reading your stories and activities.
P.S I am a finalist in the MAD Blog awards in the category of Family Fun! I am so thrilled. However it is based on votes, so if you like what I do would you please spare me a vote?!