It is Family Frolics time lovely people!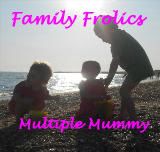 We have a lovely weekend totally surrounded by family last week and the children loved it. We have also be doing a lot of sorting and clearing and amongst this sorting we stumbled across an amazing tropical fish tank that I won last year, but with the kids being so small never got around to setting it up. We decided there was little point it staying in the box, and unless we were going to sell it, we might as well put it to use.
The children were very excited about the prospect of fish. We had asks for Nemo and Dori and a shark! Can you imagine a shark in your tank? Anyhow, with tropical tanks there are lots of rules and you can only fill them gradually, so on Sunday we popped out to the local Aquarium where we purchased three very small fish.
BBhas named these fish Jake, Izzy and Cubby after Jake and the Neverland Pirates.
Unfortunately they are very shy creatures and just want to hide in the reeds, but hopefully as we add more there will be more action, but the tank itself is very calming and therapeutic and the children love watching the fish in there.
We are going to have a lot of fish to name soon so any name suggestions are well received!
We are thrilled with the responsibility of our first new pet, and I shall keep you informed as to our ever-growing aquatic feature.
Last week on Family Frolics Link up we had some lovely entries, but the one that made me go ahhh the most was this one by Mama Smiles, who shows how Daddy gets involved to encourage drawing and imagination. The comparison between the three pictures is amazing!
So do come and link up your Family Frolics this week and show me what you have been up to! For the rules and guidelines see here!