This week has been the perfect week for Family Frolics as the sunshine has been incredible!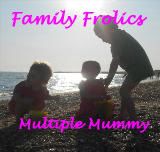 We have been out and about including a Zoo trip  and met up with Dear Beautiful Boy.
However we have mostly been enjoying our garden.
My brother (who starts his new job on a cruise ship tomorrow) has spent his time off sorting out my garden so that is a family friendly and safe haven for the kids. They love it!
The twins particularly have love been out in it, and this week have spent hours make 'mudcakes' as they call them!
It has helped them work together, communicate better, concentrate and improve dexterity. They have just found putting mud into pots the most amazing thing and it has been a delight to watch!
Last week, more fab link up to Family Frolics. My favourite this week is by a new blogger that I have only just discovered called Babylandiaa (well actually she found me but I am so glad she did) based in Poland. She made these beautiful butterfly mobiles with her daughter!
So what have you been up to this week?
For rules and guidelines click here!
If you know what to do already then just add your link below!