Welcome to Family Frolics!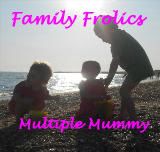 It is the Easter Holidays and Multiple Daddy is off work for two weeks which means lots of fab family time! This weeks best moment was a walk to burn off some cooped up energy with a kite! Oh boy did Daddy, the twins and BBhave fun!
My favourite post from last week was Family Matters Blog when she talks about the importance of quality time one to one time with your family, especially if you have a big family. I only have three children and can relate to the issues around sharing yourself as a parent. It can be hard sometimes. She talks about spending the day decorating cupcakes with her teenage daughters and what a great day they had together!
This week I would love to see your link ups showing the fun things you have been up to this holiday as a family!
Just grab my badge in the side bar!