Welcome back to Family Frolics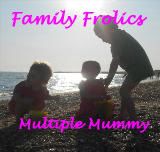 This week I took BBfor a horse riding experience. As I said the week before we are setting ourselves new things to try each week to see what he enjoys as part of our 1:1 time.
He was very excited about the prospect of going on a horse as Cowboys like 'Woody' ride horses and he could wear a hat.
When it got to the time to get on the horse he was a little apprehensive but the instructor was brilliant. She got him to say hello to the horse and stroke him first. Noah's horse was called chestnut.
She then help him get on the horse, adjusted his stirrups and taught him to hold the reins, and then taught him  how to say 'Walk on' and 'Stop'.
They were then led to a paddock and I could not believe it, as during the course of the session she got him to trot, walk, and do a couple of jumps! Of course he has another lady by his side next to the pony all the time, but I was just expecting lots of walking around.
I thought that BBwould ask to get off during the course of the lesson but he loved it. It was supposed to only be 15 minutes but they were nearly half an hour. He was exhausted by the end as all that balance, holding on and concentration is tiring, but I do think we will go back.
I have never horse ridden myself, but I just love the idea of getting BBfamiliar with and taste test different experiences so that maybe he might start asking to do things. I have to say I was a very proud Mummy.
So what have you been up to this week?
Please do stop by and share your Family Fun. Just add my badge or link me into your post.
Please also do spare me a vote for the Moms of Multiples blog competition!