Welcome to this weeks Family Frolics!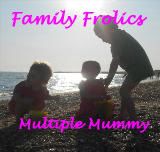 When I mentioned this week on twitter that I was going to see Matilda in the West End, the response was amazing with people telling me how superb it is. I went with the big kids of the family including my two gorgeous nieces, my two Sister in Laws and my Mother in Law.
The absolutely did not disappoint. It was incredibly witty and humourous with my favourite line being after Matilda's Mum has given birth she exclaims
'Thing are not right, my undercarriage doesn't fee quite normal!"
Well to be fair I think she has a point!
The singing was sensational, the choreography clever and phenomenal, the child cast out of the world and 'Miss Trunchball' stole the show!
It was awesome.
The story does veer slightly from the book (it was my favourite as a child and read over and over again!) but in a way that makes it very fitting to the stage.
It is a family filled day for any child five years plus! I cannot praise it enough!
The girls just loved it and it was brilliant taking glances at that faces through the show. There is something so magical about going to see a musical.
But I did not forget about my three and brought them back a newt each! (For those of you that know the story, Matilda knocks over a jug with a newt in it with her eyes!). They quickly found out that they stuck to walls! Not Mummy's most genius buy but they loved them!
So what have you been up to for your family frolics this week?
Link up below, but please do either take my badge (found at the side) or link me into your post!