Hello – welcome to Family Frolics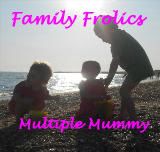 The children and I were invited to The Marks and Spencer beach clean up last week. We were very grateful that the weather was not only dry but fairly warm. I decided to take the twins out of pre-school for the morning and persuade my mother in law to come with us to help me as I thought it would have a beneficial message to the children, as we use the beach a lot.
The day was not quite what we expected and in fact was not wholly suitable for toddlers, however we tried to make the best of the situation.
BB (Big Brother) was given a litter picker which he felt was his fabulous new toy and we had a bin bag and he really quite enjoyed trying to find litter, pick it up and put it in the bin bag. The twins started off well but as they did not have their own litter pickers the novelty wore off fairly quickly.
We talked about how litter is very bad on a beach, as not only can it be smelly and look horrible, but it can be very dangerous to animals, especially if they eat it. BB seemed to really grasp this concept well. I was also able to reinforce this at home by using the 'School of fish' website which has some fun games and great resources on there including an A-Z of sea creatures.
A BBQ was provided but 2 hours of beach cleaning for 2 year olds was too much, and the wind was too strong on the seafront and whipping sand in their faces. You know how hard it can get with hungry, whiney toddlers and so we had to call it a day early.
I do however feel that BB particularly did get an idea that it is helpful to look after the beach and despite the session not really being as equipped for children as it should have been,  but strongly feel that the campaign and the cause was good. The Marine conservation Society do an awesome job at protecting our beaches and marine life and introducing our children to the idea of keeping a world healthy can only be a good thing.
So what have you been up to this last week?
Please link up to Family Frolics below – love seeing your posts!
Just to add – I am over the moon that my blog has made it through to the final shortlists of  two National Awards so I need to ask you to vote for me please!
The MAD blog Awards, 
I am delighted to be shortlisted in:
Best MAD Family Fun Blog
Just click the link here to vote !
and also…
Blogger of the year by Loved by parents
I am found in the Special awards Category as Kerry Farrow
Please click the link here to vote
Thanks you and Much appreciated