I always knew we would have to face our first proper injury at some point with one of the children but I just did not expect it to be so young. Last week Chilled Out boy fell over at pre-school. I got the call to pick him up saying that he had chipped a tooth.
Chilled out Boy has the most gorgeous smile with the straightest of baby teeth and when the staff said he had chipped a tooth I envisioned a tiny bit of the corner of one of his teeth missing. When I turned up I was shocked to see major gaps in the top of his mouth where chunks, not chips of both front teeth had broken off.
The poor little man was in so much trauma that he knocked all sensation from his mouth for two days, and it was only then that he started to complain his mouth hurt. Luckily for us my Mum (his Nanny) is a dental Nurse and so we were able to get him to the dentist straight away. The dentist informed us that he has fractured both teeth and that he must have fallen hard to do that much damage. He warned us they may go black and that he may have to have them removed. He put the little man onto antibiotics to prevent an infection and we went home.
This week we all as a family ventured to the dentist for check ups and to get Chilled Out boys teeth rechecked. It is always difficult to not make little ones nervous at the dentist, but I am lucky that mine is so gentle and the dental nurses are fab with kids (Nanny you are great!).
As far as the Little Mans teeth goes, the jury is still out. There is some discolouration and it not that that hopeful, but it is a waiting game. I just must be thankful that it wasn't worse and of all the things we thought we would do in the half term, a family trip to the dentist was not one of them, but different and they seemed to have fun!
Last week I had some fabulous entries, especially with lots of you enjoying the snow. This week I am featuring Here come the girls and her bring the snow indoors post!
Please link up your Family Frolics this week in the linky below.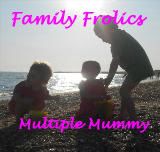 I would really appreciate you taking my badge from the side margin or linking back to me in your post.
MM
xx