This week we had snow! Hooray! It is such a novelty for us here in the UK to get snow and usually the world comes to a standstill, however I think we coped quite well this year and so our Family Frolic adventure is all about the snow this week!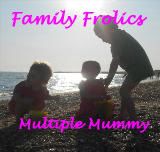 Out came the sledges and snow suits, the hats and winter gloves and it is amazing how this freezing weather brings families together to get outdoor.
It was the twins first real taste of snow. They have been out in it before, but as non walking babies and so this was the first year they put on their welly boots and walked in it. They were not totally convinced by it. In the first five minutes they had fallen over and made their gloves wet so they didn't want to wear them. Within the next ten minutes their hands were cold and then we had tears because they wanted to go in!
BBon the other hand thought it was brilliant, however as the snow has melted and turned to solid ice he is quite nervous about slipping over. He keeps asking if we can turn the snow into diamonds, which I think would be a marvellous idea, but unfortunately we need a little carbon for that!
So here are our snow adventures!
Again some lovely entires into Family frolics last week, but this week I am featuring…
Mummy Musings and Mayhem – another twins mummy who had a go at this brilliant messy play adventure last week!
So what have you been up to this week? Have you been out in the snow together, or snuggled up inside doing something else? Now's the time to link up and show me your Family Frolics.
You can find Family Frolics Guidelines here and see what it is all about!
Please help yourself to my badge from the side margin!