Welcome back to Family Frolics – the place where you link up your family fun!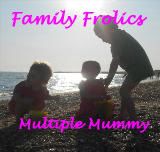 I have been a little under the weather this week and so not as much activity has taken place as I would have liked!
We did however make a pirate ship and role play Captain Hook and Peter Pan for ages.
This was inspired by the lovely Mummy Mishaps in her post linked up last week! She made a pirate ship out of a simple cardboard box. This was my pick of the week so go and see her post!
The twins and I also went to baby gymnastics, where they braved the swinging rings without me holding them up! I was so impressed.
At the beginning of the week I had some quality family time with BBand Multiple Daddy as we went to London to see the screening of The Muppets. Superb!
So what has your Family Frolic been this week? Come and give me some ideas for next week.
The basic rules
The most important part is that it has not got to look 'professional'…it is the taking part that counts.
It must be family based…meaning an activity you did together. It does not have to involve the whole family but at least evidence that a child and adult were involved together.
It must not be a competition of review that you have been requested do (if it is a book you are reading  or a toy you are playing with for example then that is different.)
I would really appreciate you taking my badge to put on your post and if you fancy mentioning that you have linked up to me in your post that would be great! The code can be found in the side margin of my blog!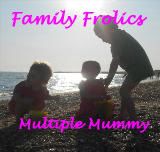 Looking forward to reading them!